To build the perfect backyard playground, a lot of planning is needed. First, choose the location of the playset in your backyard, and then shortly after prepare the ground. You then want to build the wooden slide, swing set, and sandbox. Add pea gravel to the swing set and the right play sand to the sandbox.
There is nothing more satisfying than coming home from a long day at work and seeing your kids playing outside. If you're like me, then the thought of building an outdoor playset for your children may have crossed your mind.
Outdoor playsets are expensive to purchase new, but with some DIY skills and a little elbow grease, you can build one yourself! In this blog post, we will show you step-by-step how to create a DIY backyard playground that includes swing sets, climbing cargo nets, and slides – all in just one weekend!
Things to know before building a backyard playground
Playgrounds have many benefits and creating your own DIY backyard playground can be a lot of work but we will walk you through all our strategies to help you along the way. It's important to think about a few things before we start, so we do have some playground ideas for you to consider.
Location of DIY Swing Set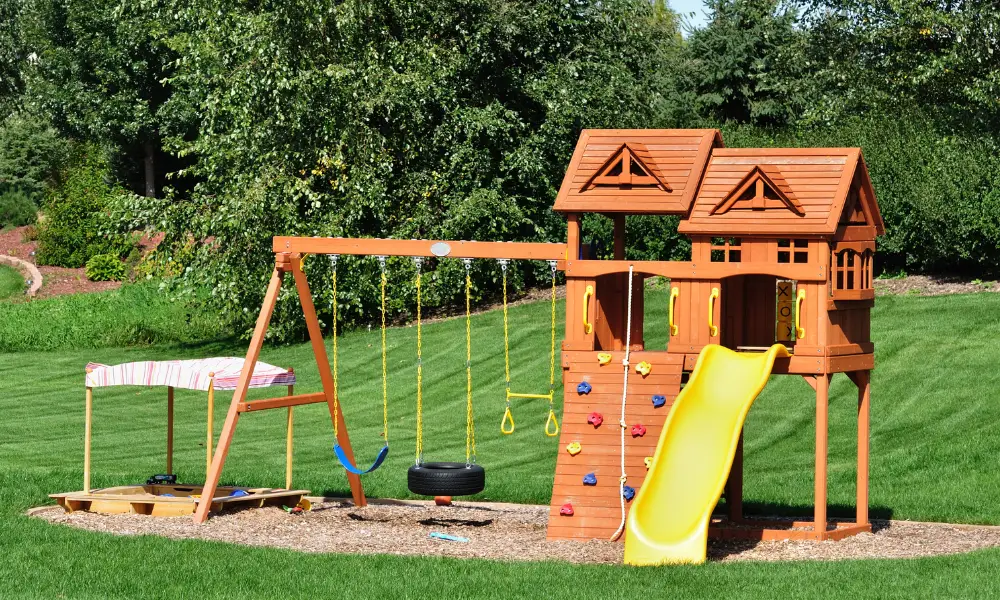 The next step is to figure out where you want to put your swing set. Where you set up your play areas is very important, make sure things are not in the way that you will hit when swinging.
Keep in mind if weeds will grow where you choose or will the sun be in your eyes when swinging. Once you find a location, then it's time to prepare the ground.
Adding a weed barrier is something you should also consider, yes more work now but less maintenance later.
Come up with the size of the backyard play area so you know what you are working with. You could even add a playground border around the swing set to easily see where the play areas start and finish visually.
This may help keep the kids in that spot if they are younger. You can also add other types of material towards the end to help break a fall, we recommend pea gravel as it is safe to use and helps absorb an impact.
Building a DIY Swing Set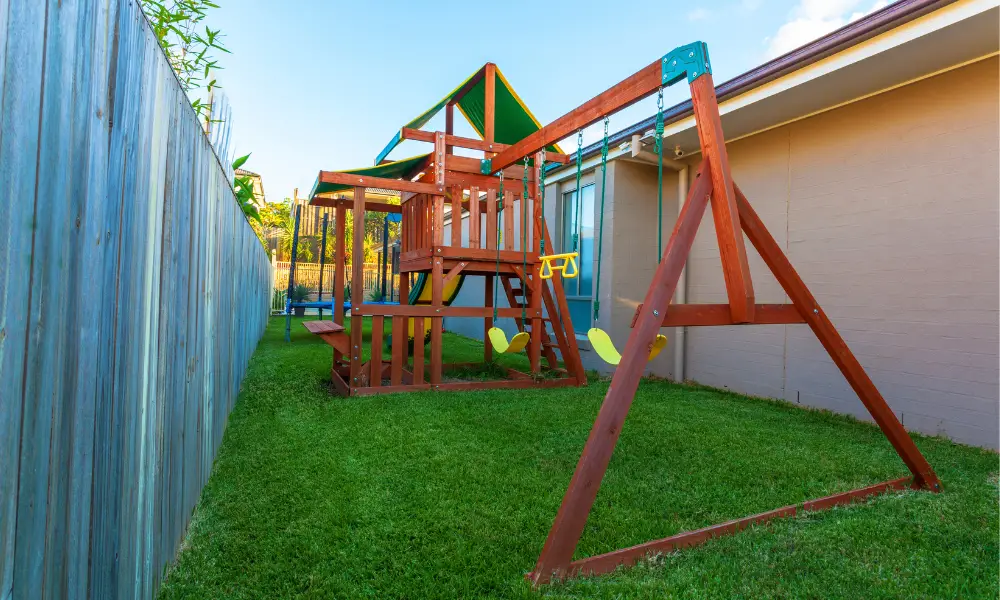 There are some big DIY projects and this is one of them. You can create your own wooden DIY swing set to save some money and also create the play area exactly as you would like.
You can add a slide or even monkey bars to climb on. Climbing really does give the kids great exercise and develops strength.
To improve your child's balance, we recommend a DIY balance beam. If the child is young, don't make it too high off the ground, and you can also add mats or soft materials under it.
You can even attach the rock wall directly onto the tower of the playset, depending on how high you want them to climb. Hanging a cargo net nearby could help them climb if needed.
DIY outdoor projects are a lot of fun and you can even have your kids help with some of the easy tasks, it really makes them feel special that they helped build their very own playground. If you are not into DIY backyard projects you could always purchase a wooden swing set with a sandbox.
There are other types of material used for a play structure like a swing set, mainly metal or wood swing sets. Swing sets are fun for kids to play and swing on for hours at a time.
Setting up a DIY Backyard Slide
Now it's time for the slide! Backyard play is not complete without this. Go ahead and create a wooden slide for your play area.
If you want to go another route, you can also create a tube slide for the kids to enjoy and really adds that special something to your playground.
Make sure to use wax paper to help make the slide more slippery. The kids will really enjoy this for hours at a time.
Hanging DIY Swings in Trees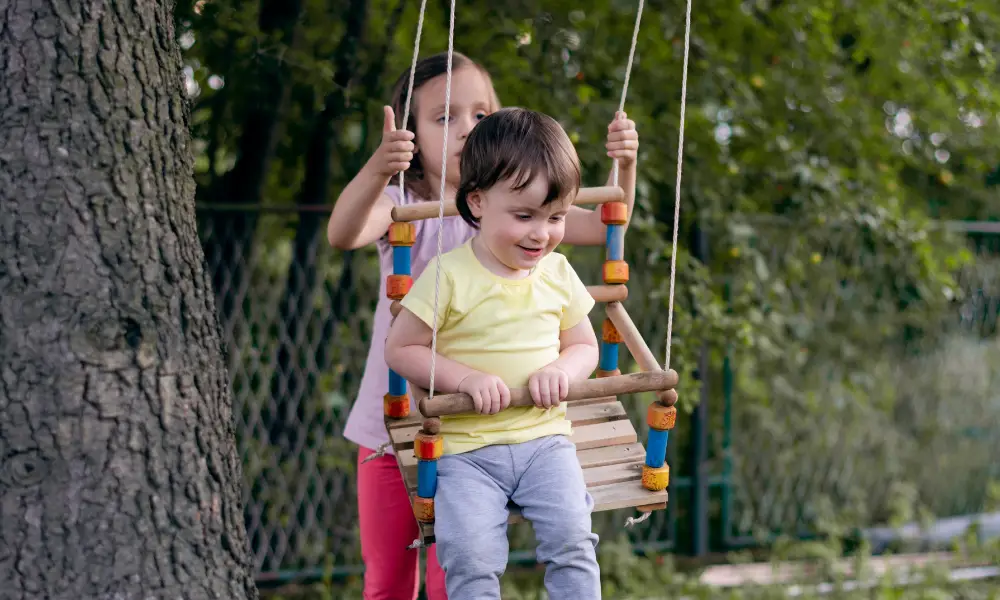 If you have some trees in your yard you are in luck, you can hang a swing between two trees. You can even hang a tire swing as well.
When working with tires for a swing or just decoration around your playground painting tires bright colors can add more of a fun design.
This really helps with outdoor space especially if you don't have a lot of space without trees. Kids will love the idea of the DIY swing hanging from a tree.
You can even purchase hanging saucer swings, these are a new fad going around and are really bouncy, fun, and easy to install. A swing is so important in a child's youth and swings really are very calming for kids.
A DIY playground isn't for everyone but once you have it all built and set up you can enjoy the landscape for years to come and the kids can have so much fun in the playground area you all built together. What an awesome accomplishment.
Adding a DIY Seesaw (Teeter-Totter)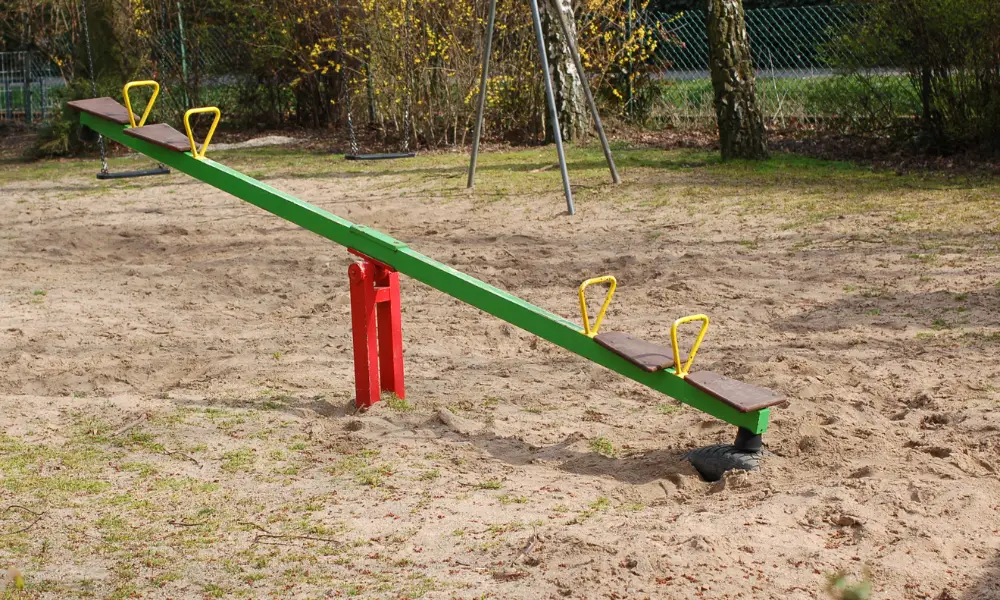 Another great addition to a DIY Playground is the seesaw! Kids can have tons of fun using them, and it encourages balance and cooperative play.
To build a DIY seesaw there is a good amount of work to be put in, but it's so much better when you build it yourself. Kids will get many years of fun with a teeter-totter. It is said that it was invented to simulate riding a horse.
Adding a DIY Sandbox with a Cover to the Backyard
Kids love to play with sand. It really helps their creativity. You can see ideas being created as kids mold sandcastles in outdoor sandboxes.
You can create your own sandbox with a cover as a DIY backyard project. The backyard playground is a nice space behind your house, and it's safe because it is your backyard play area.
Great ideas, like having a sandbox for your children, go a long way but make sure you get the right play sand for them. As your kids are climbing through the sand, make sure to take good care of the sandbox play area.
Keeping the area clean is important for your kid's health.
Maintenance of Backyard DIY Projects
Having a playset made of wood, you want to maintain and protect it so it doesn't rot. Metal swing sets are a lot easier to maintain, but the wooden swing set won't cost you as much, and you can create it yourself.
It's important to keep bugs off the garden playset.
If you chose good lumber for the project, cedar is always my recommendation if you can afford it, maintenance will not be as often. Cedar is great to hold the frame of the swing set together and is recommended for the 4×6 beam that goes across the top.
If you created a platform, make sure to also keep it clean from leaves, and it's important to use a sealant when needed on the wood area that looks like they need to be sealed.
Importance of a DIY Project
There are so many different types of DIY projects, not just about a swing set or tire swing. You could also do a DIY home improvement project with your kids or even create an outdoor treehouse.
Having a playhouse for kids is so much fun, the kids pretend it is their mini house with possibly a tree going through it. It's really nice to have something so natural in the backyard made of all wood, you can even create a tower area so they have a second floor.
You can even attach a few tire swings to the same tree, so if it gets too hot in the summer, you can grab the rope and swing to cool off. You can use some tires for chairs and even draw on cool things on the wall.
Don't forget to think of a creative name for the fort as this could give even bring more importance to the treehouse for the kids.
More Advanced DIY Backyard Projects
If you really want to take things to the next level, there are even more projects you can create in your backyard. Kids love playing basketball, but it always takes so long to drive to the park and hope the basketball court is open for them to play.
What if you build a basketball court in your backyard? When I was growing up, we had one, and it was an amazing getaway, I would go out there all the time and shoot some hoops. It was also one of the best memories I remember of my father, him building the court and playing a game.
Conclusion
For backyard play, a swing set is at the top of every kid's list. They love to swing and will describe the experience as awesome.
By using the tips above, you will make some great playground structures, and using wood they will look natural with the landscape. Using the right lumber for your DIY yard project is a great idea.
You may also want to build a fence around the backyard play area to keep the kids from wondering.
---
Please be careful and use at your own risk
None of the authors, contributors, administrators, or anyone else connected with BestPlaygroundSets, in any way whatsoever, can be responsible for your use of the information contained in or linked from these web pages.