You can make soft play equipment out of any material, including foam and synthetic leather PVC, as long as the equipment does not have any sharp edges. Combining these two materials ensures that the equipment is soft and safe to play with while also maintaining and being clean.
Choosing the greatest soft play equipment may be done by looking at the foam rather than the other possibilities. To provide a safe and comfortable experience while playing, V24 foam is one of the greatest solutions.
This article comprehensively covers all you need to know and some ideas about DIY soft play equipment.
What Is Home Soft Play Equipment?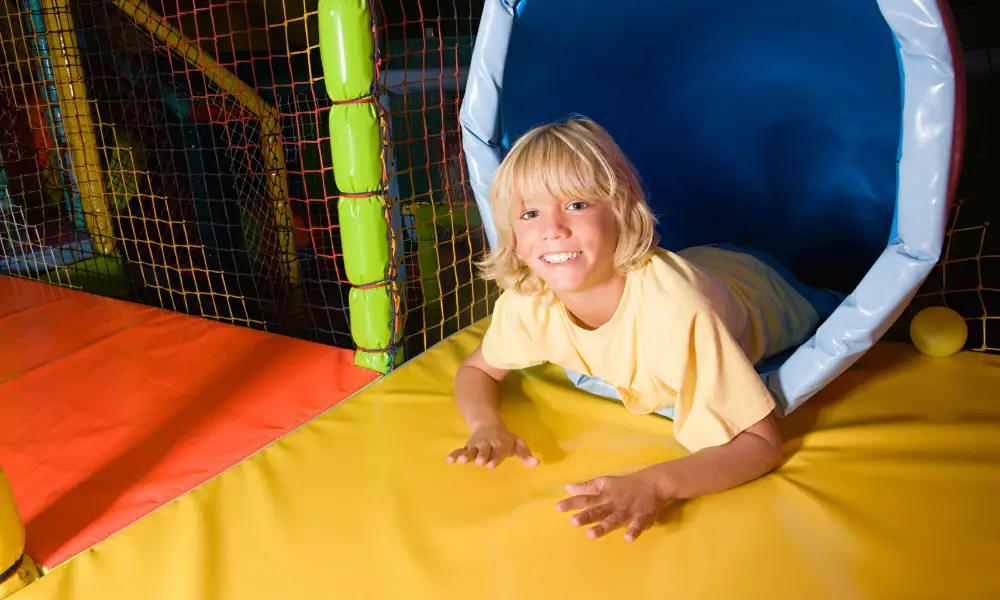 Home soft play equipment consists of things constructed of softer materials that allow smaller children and toddlers to play in a more secure environment.
Soft play equipment used in commercial play centers is identical to soft play equipment found in homes. However, it has been scaled down or altered for usage in the home.
Building blocks, rockers in the shape of various animals, and short slide and step apparatus are all examples of common types of home soft play equipment. The pieces are usually put on soft mats that have been specifically developed for this sort of play.
Parents may rest knowing their child is playing in a safe setting by placing soft play equipment in a corner nook or playroom at home. Young children like exploring soft play equipment at home. 
Is Home Soft Play Equipment Worth It?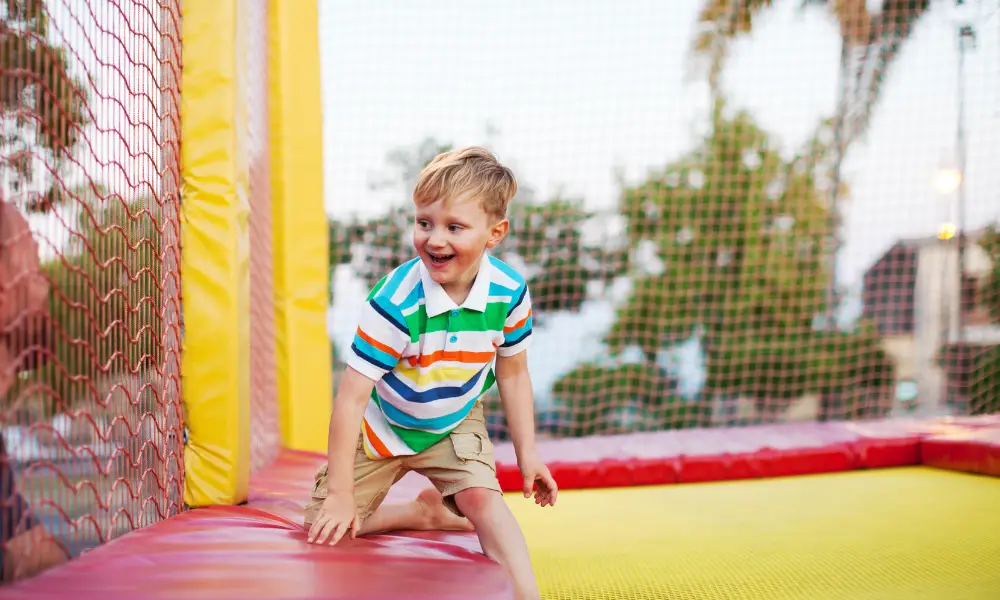 Toys and soft play equipment are some of the most enjoyable types of play a toddler or young kid may enjoy.
It delivers a slew of advantages, beginning with the ability to have safe play experiences in the comfort of your own home.
The following are some of the additional advantages of utilizing soft play equipment at home:
Development of the cognitive faculties
Having a good time and having fun
Improvement in self-esteem 
Improvement in motor skills 
Improvement in problem-solving abilities
Because of these and several other advantages, it is simple to understand why soft play equipment is a worthwhile investment for both parents and their children. 
Buying soft play toys is an excellent option if you want to give play possibilities for your children in a simple and safe manner at home.
What Is The Process Of Making Soft Play Equipment?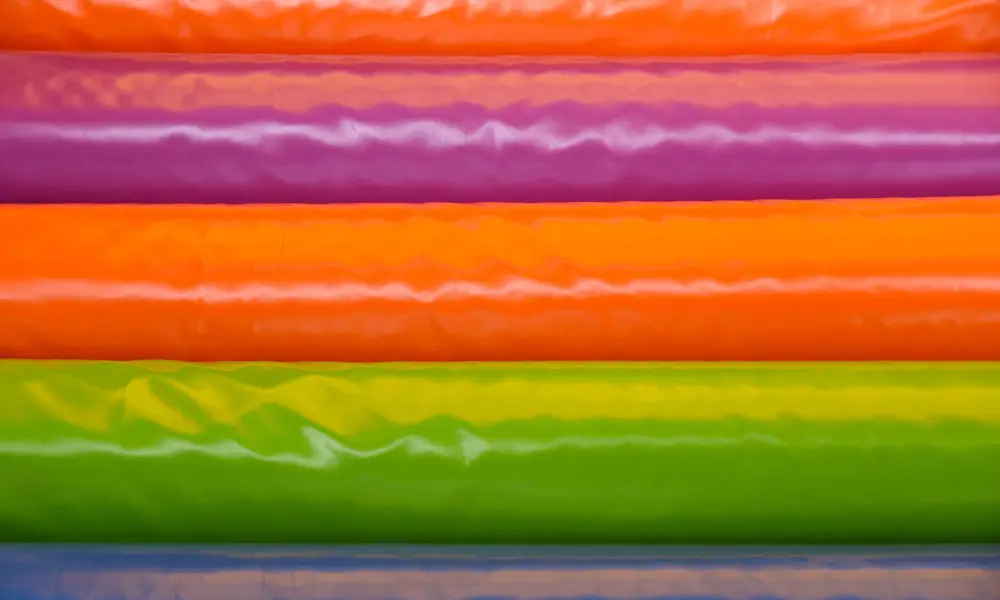 Soft play equipment is made of foam that has been coated with synthetic material and then sewn and/or bonded together to create a structure. That is the shortened version of the explanation.
Layout software is used by professionals to prepare their ideas before they begin construction. In this way, they will be able to determine what sizes of foam to purchase and how much material they would use.
Designer skills will also assist you in laying out the design, which will be especially useful if they are performing custom orders and the client must approve the design.
The needs are not so complex that high-end software is required, and small organizations that undertake this type of work frequently rely on whatever they are familiar with and what they have taught themselves.
Military accuracy is not necessary for the production of this play equipment.
Soft Play Set
SoftScape Toddler Playtime Corner Climber
Product Benefits:
This beginner playtime corner climber allows infants and toddlers to safely explore, climb, crawl, and slide, stimulating imaginative playtime with its reconfigurable design.
It's perfect for both in-home and institutional learning environments, providing safe indoor active play for any setting.
The climber encourages the development of motor skills, hand-eye coordination, and key social skills.
It features a textured non-slip base and comes with hook-and-loop fasteners to keep pieces secure.
Ideas For DIY Soft Play Equipment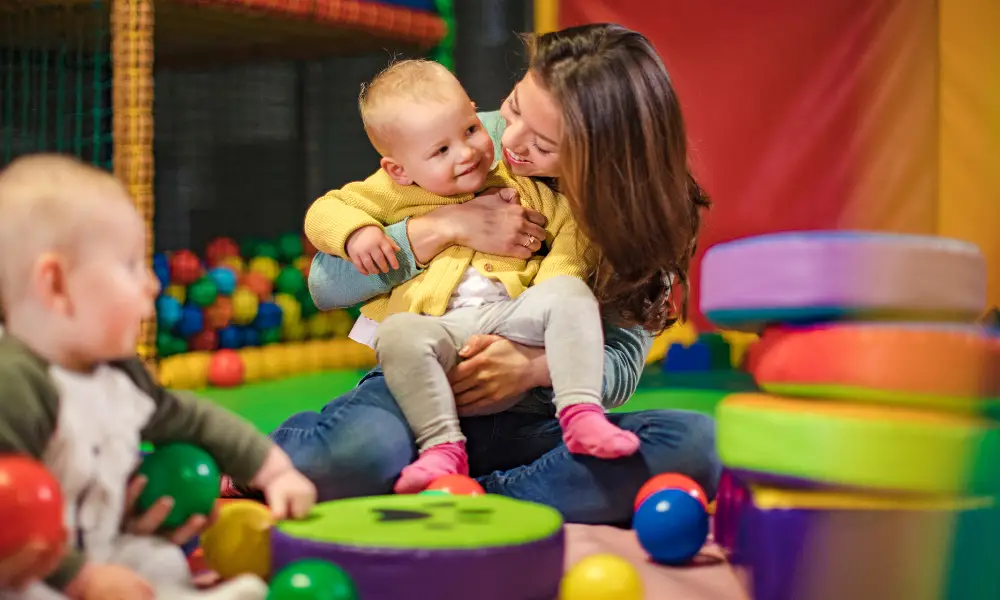 It's critical to select the ideal location for your soft play before you begin designing and building it.
Make sure to choose a place or location that is large enough for you and your children to move around without bumping into anything and running into the danger of being injured.
Most people choose their living room or bedroom because it is convenient, they don't mind shifting furniture, and it feels safe.
Take precautions to ensure that any sharp edges, corners, or other potentially hazardous items are covered or moved out of the way.
For example, sharp table corners, fragile items such as vases, and large impediments that your children may accidentally run into should be avoided.
Think about what kind of play place your children would like to have with you.
Do they have a certain theme in mind?
If this is the case, you may invite them to make small decorations – for example, if it was a pirate-themed indoor play, you could ask them to draw pictures and look about the house for items that have a pirate and sea theme.
Is it their intention to develop a variety of barriers depending on the sort of play area? What kinds of activities do they want to design and develop?
Encourage kids to come up with a variety of design ideas in order to make it a fun and interactive DIY indoor play project for them.
It's time to get to work on the construction. Consider all of the many aspects that could be used to build an indoor soft play area for the youngsters in your life.
You could even turn it into a game or a scavenger hunt to see what you can come up with.
Some suggestions are as follows:
As many cushions or pillows as the children are able to gather together
Toys that they find very cuddly
Posters and pictures to adorn can be created with felt tips and crayons.
DIY Foam Blocks for Toddler Sensory Play
These easy-to-make foam blocks are ideal for sensory play with toddlers. It's a resource that your child will be able to use again and over again, and it's simple to put together.
A set of foam blocks is simple to construct and makes for an entertaining sensory toy for toddlers. Foam blocks can be used for a variety of tasks, such as constructing, categorizing, layering, and much more. 
With just a few pieces of 1-inch chair foam, you can create a plethora of learning opportunities through play for your children.
Materials For Making Your Own Foam Blocks Include:
Chair foam – a type of material that is used to cushion a chair.
Crafted Form shapes.
Shears
How to Make Your Own DIY Foam Blocks for Toddlers:
With a marker, draw the fundamental shapes on the foam surface. Cut out the shapes with a sharp knife. To cut through the foam's thickness, a pair of regular-sized scissors will be required.
Self-adhesive foam in a variety of colors and forms can be used to label the shapes.
Instead of foam shapes, you can use letters or numbers or any other type of self-adhesive stickers if you don't have any on hand.
If the stickers do not adhere securely to the foam on their own, you may need to use a glue gun to adhere to them.
Alternatives to sticker application include encouraging your youngster to paint the blocks with markers or simply leaving them plain.
Foam blocks are gentle to the touch and long lasting, making them excellent for toddlers to manipulate. Besides that, they are stackable, squish-able, and indestructible.
The addition of color and shape labels to the foam blocks increases the play value of the set.
Children may create designs and patterns, construct structures and creatures, and learn math and creative abilities while having fun.
DIY Baby Swing in 11 Steps
There are a few items you'll need to get started:
Dowels made of wood( 4)
Carabineers
Heavy-duty fabric
Pillow
Pull-up bar
Rope
Saw
Scissors
Sewing machine
Thread
Steps:
You'll need six pieces of cloth for this project. The length of the pillow should be three times the length of the two.
It is recommended that the length of the two be one and a half times the length of the pillow.
On all edges, the fabric will be a fraction of an inch longer than the pillow. In addition, the pillow's other two components should be three times as thin as the pillow.
So, take the length of the pillow and multiply it by three to get the width. When you've finished cutting out your pieces, stitch the matching pairs of pieces together. The swing will be strengthened as a result of this.
Layout the piece that is the longest. Then, place the other two pieces in the center of the fabric, diagonally across from each other, and stitch them together. Then, fold each outer border in half and sew it together.
The dowel should be cut into four pieces with a saw. Each one should be a couple of inches longer than the pillow it will be used with. Make holes on both sides of each dowel with a drill bit.
Make certain that the drill bit is thick enough to accommodate the rope passing through the hole. Slide the dowels through each fold so that they intersect at the holes at the end of each fold.
Slide the rope through the dowels to the point where they connect, and tie a knot that is thicker than the hole you've created.
There will be two lengths of rope available. Each one should be around the length of the door so that the swing can be placed around the hip level of an adult.
Knot each piece of rope at the midway point so that you have a loop in each piece of rope. Install the pull-up bar and connect the ropes to it with carabiners to make a pull-up station.
Add a few pillows, and you're done!
DIY Sensory Tunnel
With a couple of chairs, you may arrange them in two rows parallel to one another, providing a large enough gap for your children to crawl through, and with the seat, the portion facing outwards.
Then, using a sheet or blanket large enough to cover the tops of the chairs, you'll have your own tunnel!
At each end, you could even construct a little fort out of a pop-up tent or a cardboard box/boxes you already have sitting around, which the kids could even build themselves using the materials they've gathered.
Then invite them to fill the container with whatever they like.
DIY Mini Climbing Area
Do you want to make a small climbing obstacle for yourself?
A simple chair can be constructed using solid and safe chairs or anything similar that is both acceptable and available.
Place the seats in pairs and rows, just as you did with the tunnel. The chairs should be faced outwards this time so that the children may climb on them when they are positioned back to back this time.
You'll therefore have a tiny climbing challenge to contend with; be sure to surround the chairs with pillows, blankets, or even sofa cushions to ensure a gentle landing in the event of a slip or fall.
Perhaps even more realistic soft play can be created by using a couple of couch stools that can be pushed together and used to extend a sofa, making your very own soft play climbing area.
DIY Den (Pillow Forts)
To make your own den, set up a tent or two chairs facing outwards with a huge gap in between them, covered with a large sheet to serve as a shelter.
To customize the room, you may then work with the children to fill it with various cushions and blankets, their favorite books, and even some of their favorite toys to make it their own.
DIY Mini Bouncing Park
Do you have a little bounce for kids or your own mini-fitness bounce? Afterward, you might set up your own bouncing park indoors!
Get a mini trampoline and surround it with soft pillows or sofa cushions to make a safe habitat for your small jumpers, who will be able to have a good time while jumping for joy in their very own mini indoor bouncing setting.
DIY Ball Pit
Do you have a paddling pool hanging around somewhere that you might use? Increase the volume and create your own ball pit
Make sure you have enough space for the pool and pump, and then fill it with plastic balls if you have any lying around.
Your kids may even go down a mini plastic slide if you have any mini play equipment, such as a mini plastic slide, in the pool!
But don't be concerned if you lack any balls; instead, fill the pool with soft cuddly toys and cushions to create a comfortable play area for the children.
Soft Play Ball Set
Pllieay 12 Pieces 2.4 Inch Soft Foam Balls 
Product Benefits:
This set includes 12 foam balls in four bright colors (red, yellow, green, and blue), perfect for group activities or family playtime.
Each ball is 2.4 inches in size, made of soft, lightweight foam, and designed for safe indoor games without causing damage.
Ideal as unique birthday party favors, they can serve as candy bag gifts, carnival prizes, piñata fillers, and more.
The vibrant colors add to the fun, with the soft texture of the balls ensuring they retain their shape even when squeezed.
Keeping Children Safe on the Playground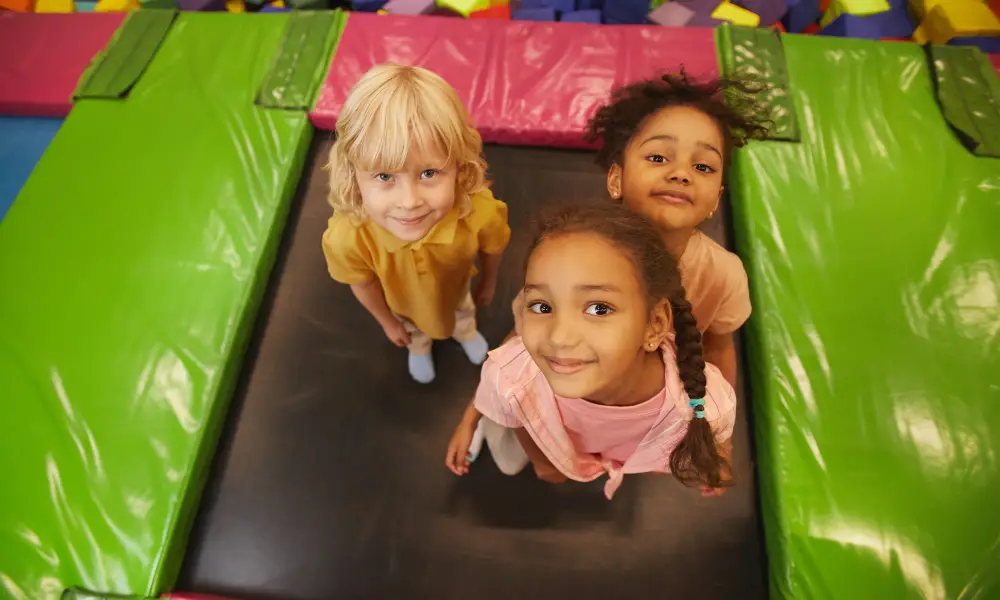 Playgrounds and soft play equipment provide children with hours of entertainment and exercise.
However, it is critical to ensure that broken equipment, inappropriate surfaces, and risky behavior do not detract from the enjoyment.
By inspecting equipment for potential risks and following simple safety recommendations, you can ensure that your children have a fun and safe time on the playground.
The Need for Adult Supervision
Adults may aid in the prevention of injuries by ensuring that children utilize playground equipment safely. If an accident occurs, an adult can assist the kid and administer any necessary first aid as soon as possible.
On the playground, children should always be under the supervision of an adult. Keep an eye on small children because they can't always tell how far away something is and may not anticipate potentially harmful circumstances.
Older children like pushing themselves to their boundaries on the playground, so adults must keep a close eye on them.
How to Teach Children About Playground Safety
Another important aspect of playground safety is that children must understand how to be safe and behave appropriately while on the playground.
If they're about to leap from a piece of equipment or slide, they should always look to see if any other children are in their path and land on both feet with their knees slightly bent.
Bikes, backpacks, and other baggage should be stored away from the equipment and play area so that no one trips over them while playing.
When biking, always wear a helmet; nevertheless, when playing on playground equipment, remove your helmet.
Never utilize playground equipment if it is wet because moisture makes the surfaces slippery, which may be dangerous.
Dress in garments that do not have drawstrings or cords. Drawstrings, handbags, and necklaces have the potential to become entangled in equipment and accidentally choke a youngster.
Distinct types of playground equipment, such as swings, slides, and climbing equipment, pose different safety problems. Furthermore, some types of playground equipment are not safe for children to use, no matter how cautious they are.
Swing Safety
Swings are the most prevalent source of children's accidents on playgrounds, accounting for nearly half of all such injuries. A few easy measures, on the other hand, can assist in keeping toddlers safe when swinging:
Swings should be constructed of soft materials such as rubber or plastic rather than hard ones such as wood or metal.
Children should always sit on the swing rather than standing or kneeling on it. They should hold on securely with both hands while swinging, and when they have completed swinging, they should come to a complete stop before getting off of the swinging platform.
Children should keep a safe space between themselves and other children on swings, and they should avoid running or walking in front of or behind moving swings.
Children should never be transported to a swing with more than one other youngster. Swings are meant to accommodate just one person at a time in a safe and secure manner.
This may sound like a lot but swings are very calming for kids and really do help them develop.
FAQs about Soft Play Equipment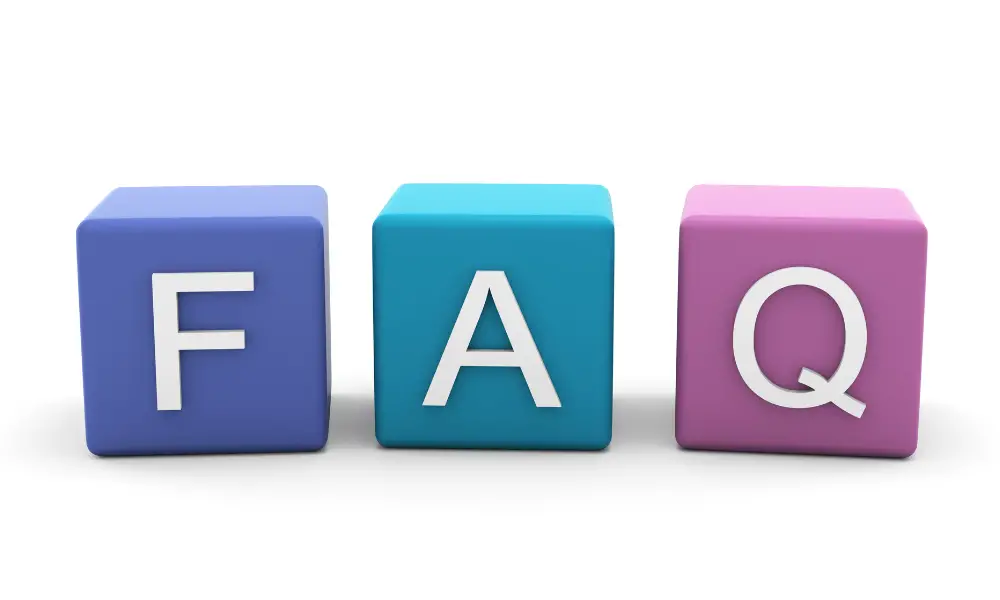 In Order To Use The Soft Play Area, What Is The Minimum Height Requirement?
An indoor toddler play area for children under the age of three can be constructed at the standard room height. A clear beam bottom height of 10 feet is required for a two-level play structure designed for children under the age of ten.
A minimum of 15 feet of clear beam bottom height is required for an adventure play structure with three levels designed primarily for youngsters aged 10 and older.
Is It Necessary To Have A Playroom In Order To Own Soft Play Equipment?
If you already have a dedicated playroom in your house, you may turn the entire area or a portion of it into a soft play zone for your children. 
You may still benefit from home soft play equipment even if you are unable to establish a whole playroom in your house. Simply designate a soft play nook or area for your children to enjoy.
House of Play's soft play goods for the home has been created to assist parents in creating soft play areas without the requirement for a full-sized room for their children. Examples include soft play slides and stairs, which are angled at a 90-degree angle to fit into the corner of a room, conservatory, or even the backyard of your home. 
When setting up a soft play section will assist parents in making the most of their given space.
The Design Process For A DIY Soft Equipment Project Takes How Long?
Once all of the essential basic requirements have been completed and the project site has been determined, the first design and price will be completed in two weeks or less, which is the industry standard turnaround time.
 It may take a little longer if the job is huge or complicated.
What Is The Bare Minimum In Terms Of Space Necessary To Create A Soft Play Area?
If you want a toddler play area, you'll need at least 250 square feet. A minimum of 500 square feet is required for a structured play area. Only then will there be a sense of enjoyment? 
What Is The Duration Of The Project's Whole Process?
You will begin designing after the project location has been determined and all of the essential fundamental elements have been completed. It can take you a day or two weeks or more, depending on the size of the project.
Final Thoughts
The fact that children have almost limitless quantities of energy is well-known; youngsters like running around and playing, even if their parents or other adults are unable to keep up with them. 
While it is wonderful when parents have the opportunity to spend quality time with their children, purchasing every piece of soft play equipment available might be too expensive.Fortunately, you can make your own soft play playground equipment for very little money, which will help you keep your children occupied.
We have a list of some vinyl playsets that could also help complement the play area.
---
Please be careful and use at your own risk
None of the authors, contributors, administrators, or anyone else connected with BestPlaygroundSets, in any way whatsoever, can be responsible for your use of the information contained in or linked from these web pages.