Yes, you can. Clean the slide with soap and water to remove any dirt before you begin painting it. You can use spray paint so that you can apply even paint coats. Let each coat of paint dry before you apply the next coat of paint.
Did you know that you can paint playsets to match the theme of your backyard? Panting playsets slides are suitable for parents who are doing a makeover of their backyards or faded slides. 
Over time, plastic slides develop a white coat, while the paint on wooden and metal tends to peel. 
You need to take a few extra steps when painting a child's slide to ensure that it lasts for a couple of years before you can redo the paint. You need to do some cleaning before you can paint the playsets.
It would also be best to have the right paint color and sealant to ensure that the paint stays on the slide. Parents need to prepare all the supplies that they need before they can paint playsets a different color. 
Choosing a Color
The color of the new paint will depend on the surrounding of the playset. It can be your child's favorite color or something that matches the contemporary backyard décor.
Choose a fun color that your little one will love, but not a color that will be the center of attention in the backyard. You can also go for gender-specific colors, or gender-neutral colors like yellow, chrome, green, or orange, among others.
Choosing Paint
You can opt to use plastic-friendly paint since most playsets are made of plastic. Plastic-friendly paint colors have a higher chance of adhering to plastic playground equipment than other types.
Moreover, parents need to find kid-friendly paints and do not contain elements that may be detrimental to a child's health. Keep in mind that your child spends a lot of time on a slide, and it is okay to spend a few extra coins to get premium paint that is safe for children.
Buy enough paint to apply 2-3 coats on the playset evenly. You need to choose a primer or go for a color that is 2-in-1 paint/primer.
Choose a Sealant
You don't need to apply sealant on top of the paint, but you can benefit from it in the long run. Sealants protect the paint from harsh weather conditions and prolong the duration that the new color will last.
Additionally, it doesn't cost much to buy a can of sealant that is enough for one protective coat over the paint. 
Choose the Method of Application
There are two ways to paint playsets, which are through a paintbrush or using spray paints. Spray paints are simple to apply and achieve an even coat over the slide.
It is easier to clean up after using spray paint because there is a small mess. You do not need painting skills when you opt to use spray paints over a brush. 
Using a brush or paint roller is cost-effective compared to spray paints. Brushes are locally available, and you can buy paint cans in bulk to save on cost.
However, you should be ready to clean up a massive mess of paint droplets all around the playset area. 
Alternatively, you can use old newspapers to cover the slide area before you start painting with a brush. You can remove the newspapers for disposal when you are done. 
How to Paint Playsets
Several steps will ensure that your new paint job is successful, especially on a plastic playset. You can't just buy supplies and dive into applying paint to playground equipment.
It would be best if you prepared the playset so that the paint can adhere to it and it lasts for a reasonable amount of time before it starts to come off. 
Clean the Playset
The first step is to thoroughly clean a playset using water and dish soap with a rag. It would help if you scrubbed a playset to remove any dirt, soil, oil, and grime that may have accumulated when children play.
Dish soap is a mild detergent, and it won't affect the integrity of a playset. Use a hosepipe to remove the soap and water from the slide and inspect whether there is any dirt remaining.
Let it dry before starting the next step. You can drain any stagnant water in the playset so that it dries off fast.  
Apply Rubbing Alcohol
Rubbing alcohol is an excellent choice for stripping any remaining grime on the playset. Use a clean cloth with the slide with rubbing alcohol.
It is not compulsory to use rubbing alcohol, but it will make sure that a playset is free of grime before applying a new paint coat. 
Sand Down Shiny Parts 
On any playset, some parts are worn out from consistent use while others are still shiny. It is hard for paint to adhere to glossy surfaces, and that is where the fine-grit sandpaper comes into play.
Sand down any smooth areas to create an adhesive surface that the primer can stick to after one application. 
It may take a while to sand down a large slide by hand. You can opt to use a sandpaper machine to expedite the process if you have a vast playset to paint.
Ideally, the playset's surface should have a rough exterior when you are through with the process. 
Apply Primer 
Apply one coat of primer if you bought paint that doesn't contain any primer. It will act as a bonding element that will keep the paint adhered to the slide's surface.
You can find primers in spray cans as well as traditional paint cans. You can leave the playset for about 4 hours or overnight to allow the primer to dry off completely. 
It would be a bad idea to start applying the first coat of paint when the primer isn't completely dry. 
Apply Paint 
Apply the first coat of paint evenly on top of the primer. If you are using spray paint, move your hand side to side over the area that you are panting.
Hold the spray cans at least 10″ from the playset to spread the paint evenly. Holding the can close to a slide will result in some areas having too much paint than others. 
If you are using a brush, start with a clean one to ensure that you do not leave brush lines on the surface. Apply the paint side to side until you have an even coat and move on to the next section.
If possible, start each paint coat with a new or clean paintbrush to distribute the paint. 
It would help if you waited until the previous coat of paint dries before you start applying a fresh coat. It will take 2-3 coats to achieve the desired results when you paint playsets as a DIY project.  
Apply Sealant 
The sealant is the final step in DIY projects to paint playsets. You can get a sealant in a spray can or paint can. It will be easier to apply the sealant using a spray paint can instead of a brush. 
Remember that the sealant is the finishing coat and will affect the slide's overall outlook when you are done. This will help make the slider slippery.
You can choose a shine, semi-shiny, or matte sealant for your little one's playset. You can only apply the sealant when the new paint is dry.
Once you apply the topcoat, ensure it sits undisturbed to cure and dry. 
Clean the Area 
Cleaning up after DIY projects is an essential step. It would be best if you had a paint remover to wipe away any stray paint on the playset's surroundings.
You also need to clean any brushes and appropriately dispose of any spray paint cans or paint can away from your children's reach. 
Keep kids away from the location to prevent them from inhaling toxic paint fumes as the playset dries. Wipe down the slide to remove any residue before letting your child play in it when the paint dries.
Conclusion
It is possible to paint a plastic slide using the right supplies and tools. Some paints are specifically designed for plastic surfaces. Parents must buy paints that won't have adverse side effects on their children. 
You can find kid-friendly plastic paints online or at the local hardware store. Follow the steps above to increase the odds of the new paint lasting for years without significant maintenance.
You should expect the paint to get scratches in high activity areas like the slide's top and bottom. 
Otherwise, you can look forward to having a beautifully painted playset slide on your compound. While you have the paint out you may also be interested in painting tires for the playground.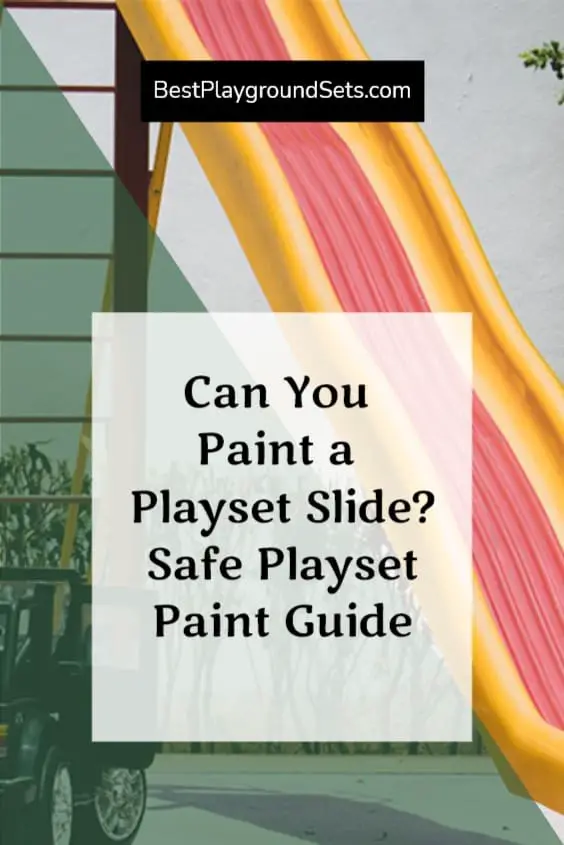 ---
Please be careful and use at your own risk
None of the authors, contributors, administrators, or anyone else connected with BestPlaygroundSets, in any way whatsoever, can be responsible for your use of the information contained in or linked from these web pages.